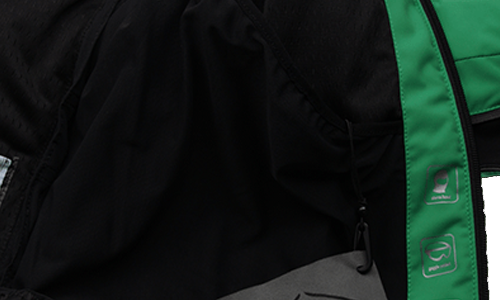 You won't even feel you are also carrying your Goggle!
On a windy and snowy day a ski goggle is a critical ski accessory. Not just to create a good view on the slope but more important, to protect your eyes. In the mountains weather conditions can change in a moment, so be prepared and always carry the correct equipment to make your ski day as comfortable and safe as possible.
A lot of skiers just always wear their ski goggle, with good clear weather or in bad snowy conditions. Others like to wear only sunglasses but VISOR always recommends carrying your ski goggles. A goggle is actually a big item to store inside your jacket while skiing so this needs to be stored inside your jacket as comfortable as possible. VISOR designed a goggle pocket on the left inner side of the jacket. This pocket is located under the arm and follows the shape of your body. Place the ski goggle inside this pocket with the "eye" side of the goggle towards your body and the curved shape of the goggle will follow the shape of your body. This special designed pocket creates a comfortable position for your goggle; you won't even feel you are carrying it!
VISOR's engineers its technical ski garment to create the most optimal and comfortable situation.