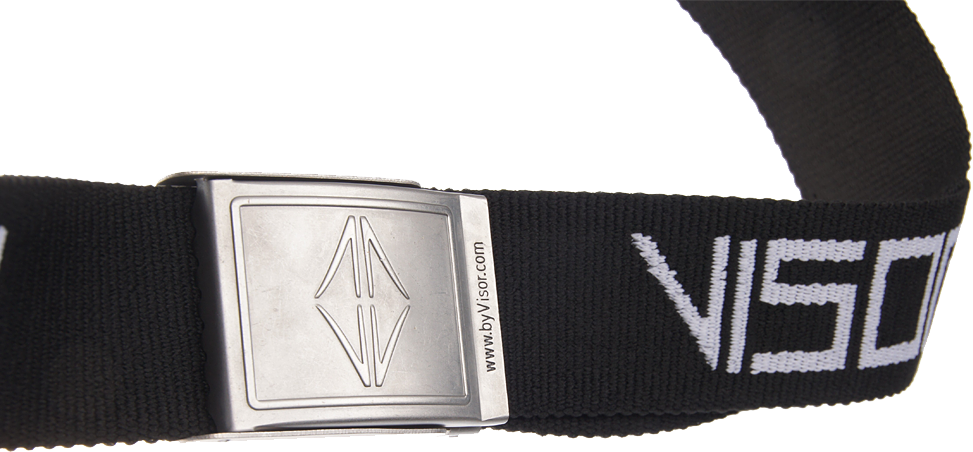 Wear your ski pants as comfortable as possible.
Not all people like to wear a belt during skiing and chose to wear suspenders or sometimes even nothing at all. VISOR always recommends wearing "elastic suspenders" or a special engineered ski belt. This will improve the comfort of the pants and will guarantee your pants stay up and you won't get any snow inside, even in the event of a fall.
The VISOR ARCANE Belt is a stretch webbing style belt with loads of adjustability and comfort. It is important for a performance ski belt that it fits perfectly around your body to maintain your optimal freedom of movement. The positions of the belt loops on the pants are as important as the quality and material of the belt itself. The belt loops make sure the belt stays in the correct position and will not cause any direct pressure points onto your body.
To manufacture an optimal ski belt you need the perfect amount of stretch fabric woven inside the webbing-belt to achieve the needed performance without feeling tight. Also make sure your ski belt is adjustable, VISOR designed a clamp-style buckle so you can adjust the belt to any size you want. The VISOR logo is 3D engraved in the buckle to give it a stunning look. This VISOR belt can be perfectly and stylishly combined with the VISOR ELITE ski pants.
VISOR's engineers its technical ski garment to create the most optimal and comfortable situation.