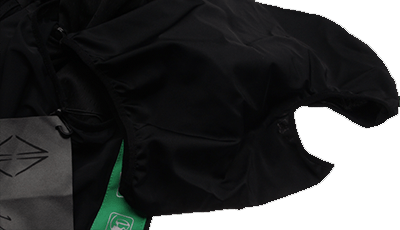 Protect your face, even in the worst weather conditions!
Nothing can be more unpredictable than the weather, especially high up in the mountains. A clear nice day can change into a snowstorm in a short matter of time. Cold temperatures in combination with wind can easily cause freezing conditions. Always be prepared for such events!
Wearing specialized ski clothing is the most essential item to protect yourself, but even when you are wearing your hood, hat or helmed, your face will not be completely covered. Extreme cold wind can cause your skin to freeze and turn into "bruises". In really bad conditions this can even cause scarfs on your face. This is why VISOR supplies a stormmask in their jackets, a mask made of warm fabric that can completely cover your face except for your eyes. Hidden in the inside pocket, next to your goggle, this special designed stormmask is attached to the jacket. In an event of changing weather conditions you can easily remove the stormmask from your pocket and place it over your head. You will be warm and comfortable even in the worst weather conditions!
VISOR's designs its technical ski garment and integrates accessories in its garment to create the most optimal and comfortable situation in all weather conditions.